France to Islay by Morris Traveller: France
April 1 – 5, 2019
April 1, 2019: St Jean de Gonville to Montbeugny
We left St. Jean de Gonville late morning and drove in the sun to Bellegarde and then Nantua, it felt good to be on our way at last. Bi -passing Bourg en Bresse via Ceyzeriat and Saint Cyr sur Menthon (what names!) we followed a sign for Musée de la Bresse, arriving finally in an empty car park. The cherry trees were in blossom and the surrounding woods full of birdsong: chiffchaff, blackcap and great tit especially. We were the only visitors to the museum that afternoon and were given a private tour of Domaine dès Planons, a typical Bresse farm dating from the 15th century with original furniture.
The afternoon drive on the N79 to Moulins was no fun at all, we have to avoid the fast roads. Lady P was rattling a lot, we are used to her squeaks but the rattling was new.
We had reserved a Chambre d'hôtes at Lieu-dit Mijarnier near Montbeugny. All was well as we were given a beer which we drank by the pond near the stables before going a short walk to the nearby small lake where there were the first swallows of the year for us. Later we drove to Moulins and ate at Le Grand Cafe with its impressive mirrors.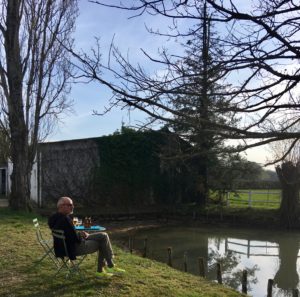 April 2, 2019: Montbeugny to Chesseaux
.
Lady Pamela stopped rattling, the mysterious noise went away. We filled up with petrol (she only holds just over 20 litres) and set off for Chesseaux where we had reserved a room in Clair Cottage, a rather spartan small hotel. We looked on our map for small roads to take and located several villages whose names we put one after the other into our GPS to prevent it directing us to a main road. In this way we passed through Ygrande, Saint Amand-Montrond, Châteauneuf-sur-cher, Issoudun, Levroux  and Chenonceau, famous for its castle.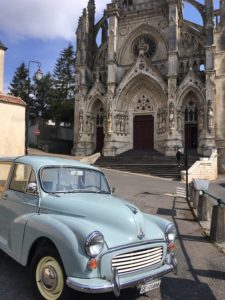 On the road we saw kestrel, rooks, great white egret and a stonechat perched precariously on a rape stalk. We stopped in Châteauneuf-sur-cher where there is a magnificent church and an abandoned castle. The church is dedicated to ´Notre Dame des Enfants' and the walls are covered with messages from people she has cured. It was sunny and we ate a picnic outside listening to the jackdaws.
In Ecueille there was an old railway station with a collection of trains and wagons from various times. We met an man there sweeping the shed and he showed us all the wagons including a couple from Switzerland.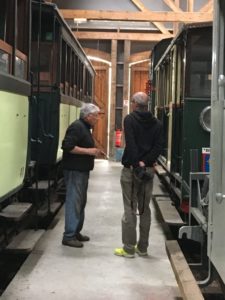 Arriving in Chesseaux it began to rain heavily and that is when Marc realised he had forgotten his rain coat so we went back out to try and buy one. We have had no luck but it allowed us to visit Ambroise.
.
April 3, 2019 Chesseaux to Laval
Chateau Chenonceau is 'the most visited castle in France'. A cold north wind was blowing, but sun shone through the clouds as we walked through the gardens, full of tulips, primroses and pansies lined up between paths in a strict pattern, with box, ancient hibiscus, rose bushes and lavender providing a structure. The castle is built over the river Cher. Inside the castle we listened to the audio guide as we wandered through rooms rich in pictures and tapestries and old furniture brought to life by beautiful flower arrangements created in the Chateau's private gardens. Chenonceau was often in the hands of women – the powerful and the beautiful: Diane de Potiers, Catherine de Medici, Mme Dupin, and the Scottish Mme Pelouz. In the First World War the castle became a hospital and nursed over 2,000 soldiers. The gardens and woods were filled with chaffinches and pied wagtails; jackdaws chattered in the giant plane trees.
On the road again we bypassed La Tour and continued through Chateau la Vallière and La Flèche to just before Laval where Marc had reserved a night in a log cabin, Ecolodges, on a small lake in the woods.
After a short but successful trip to a commercial centre to buy a rain coat for Marc (it was raining when we arrived) and food for the evening, we returned to our log cabin and the company of goats and birds. A cuckoo was singing close by. We lit the wood burning stove and a fire outside, cooked sausages, drank wine, ate strawberries and thought that no one in the whole world could be better off than we were.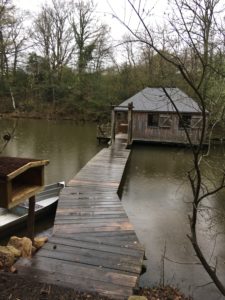 April 4, 2019 Laval to St Cast de Guildo
.
Breakfast was delivered in a basket and as we drank coffee by the stove a ragondin swam to his home under tree roots at the edge of the lake. The woods were full of birdsong: the cuckoo, black cap, song thrush, wren, robin, chaffinch. 
Back in Lady Pamela who was covered in a light frost, we bypassed Laval and turned off a main road at Chailland ' a village of charm' – the Virgin Mary looked down on us from her perch high on a rock above the village. We meandered along country lanes to St James and then on to Le Mont St Michel.
We took a shuttle bus to the island along with a large party of Chinese complete with leader and flag. Le Mont St Michel is stunning, a monastery and village built on a rock in a bay where the tide rushes in as fast as galloping horses. Once an abbey, then a prison and now a UNESCO heritage site it is a popular tourist destination. Parties of school children were everywhere, outnumbering even the Chinese. The school children were barefoot and bare legged out on the sand, many such groups were gathered like little bunches of sticks out in the vast bay. It was a cold day and I did not envy them. The Chinese like us, preferred a visit to the Abbey, an austere place of gothic stone rooms and arches. Lesser black backed and herring gulls filled the skies landing to take crisps from the school children. A tiny dunnock sheltered in the hedges below the Abbey walls. We walked up and down many steps trying to imagine a life of work and prayer.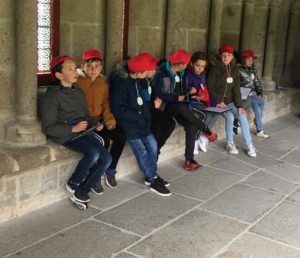 Back in Lady P we drove along the coastal road passed St Mayo and had a long and frustrating search for somewhere to spend the night which brought us finally to a cosy little gîte 'Entre Terre et Mer', at St Cast de Guildo. We were able to walk to a local restaurant for our best meal yet of fried scallops followed by fruit crumble.
.
April 5, 2019 St Cast de Guildo to Roscoff, night ferry to Cork
.
A day of rain and roundabouts as we completed the last 150 or so km, first battling it out in the traffic of the N12 then taking a longer but more peaceful road to Lannion and on to St Michel les Grèves where we stopped briefly on the long beach. The sea was far away and a cold wind blew. 
We arrived in Roscoff early afternoon and celebrated by eating moules, frites and beer. Well done Lady Pamela. We whiled away the next few hours watching the tide come in. Little egret, turnstones, oyster catchers, great black backed gulls and herring gulls picked and played in the low tide.
Then the long wait in the car park before boarding the Avon and heading for Cork, Ireland.