France to Islay by Morris Traveller: Scotland
April 19 – 21, 2019
April 1, 2019: Nr Straid, Ireland to Saltcoats, Scotland


Not wanting to be late, we arrived far too early for our ferry crossing from Belfast to Cairnryan. I was happy to be heading for Scotland. Although Ireland is very beautiful and interesting, with really lovely people and unforgettable Guinness, there is nowhere like Islay.
Once off the very crowded boat (it was Good Friday) we had a lovely sunny drive up the coastal road as far as Turnberry, Lady Pamela fairly racing along. After that the road was rather long and we were happy to reach Saltcoats where we had booked a night in Victoria Cottage, a B&B not more than 100 yards from the beach, and a cosy little place. The owner let us put Lady P inside the garden gates and told the little boy to keep his football away from her. 'Is it an old fashioned car?' he asked us, we assured him that indeed it was!
We went straight away to the beach to enjoy the last of the sun and had an ice-cream while we surveyed the scene. The scene was one of Glaswegians having a good time as only they know how. Noisy family groups, lots of bare white flesh, crying children, dogs and old grandmas sitting in the sand. Later we tried to walk up to the castle only to find it was fenced off, although a large group of young people had got in and made it their own. We left them to it and walked back to our B&B.
Marc wanted to look for a 'good restaurant for tonight'. 'Forget it' I said, so he wisely forgot it and we had fish and chips and a pint of larger at a big pub in the town centre and then called it a night. Cheapest meal of the holiday though.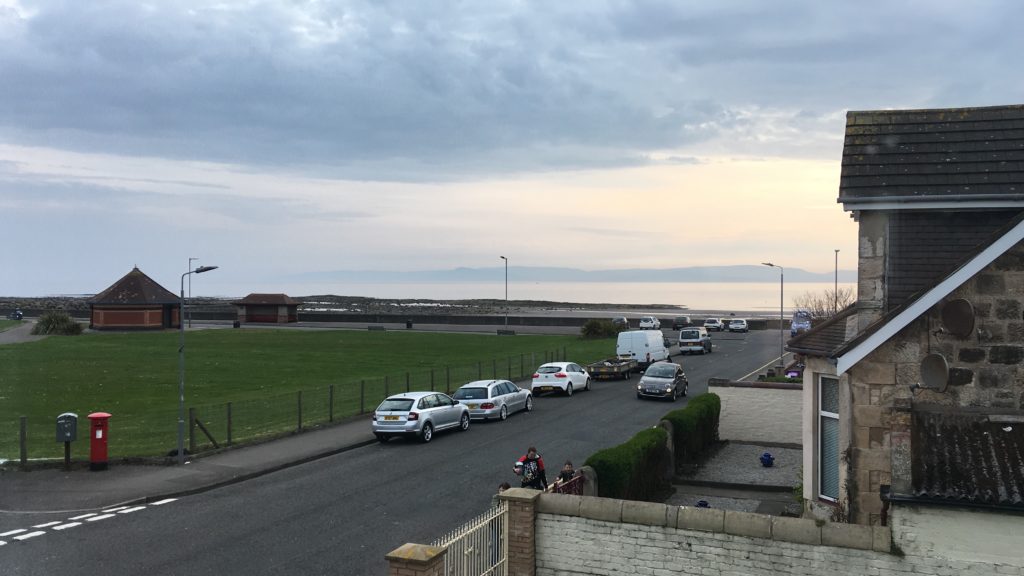 20th April, 2019 Saltcoats to Otter Bay


What a wonderful day! With the sun shining we headed off to take a ferry from somewhere to somewhere, depending on availability. We left Saltcoats very well fed and with enough left overs for a picnic later as without any warning, our landlady had put in front of us a plate of bacon, eggs, baked beans, fried haggis and black pudding, sausage and tomato. It arrived so unexpectedly that we had already eaten a bowl of cereal while waiting for some toast, so, as our landlady said, we were indeed 'set up for the day'
As we drove through to Weymss Bay a ferry boat was just loading on the last of the cars, so we quickly joined the queue and were soon heading for Bute. Off the ferry we turned right and arrived quite soon at Mount Stuart House and we decided to visit. I can only quote their website:
'The spirit of nineteenth-century invention is embodied in Mount Stuart – a feat of Victorian engineering, this neo-gothic mansion was one of the most technologically advanced houses of its age. Ironic, when you consider the medieval inspiration of the Gothic Revival. Set in 300 acres of grounds which include designed gardens, woodland and coast there is something for everyone at Mount Stuart!'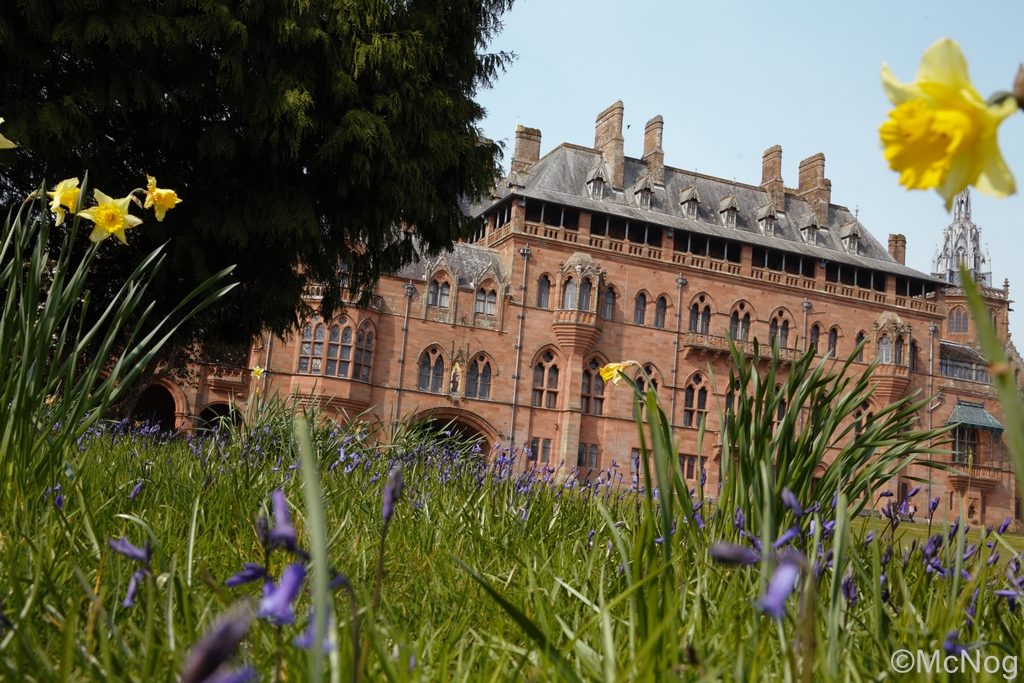 There is indeed 'something for everyone'! Wonderful gardens, majestic pine trees, sheets of bluebells and the magnificent house! We have visited three 'houses' on this holiday and they have all been wonderful in their own way. The guides proved the highlight of this visit. At least one in all the rooms waiting to answer questions and to tell lots of things you had not thought of asking. We were soon bursting with information on the construction of the house and the history of the Marquess of Bute. I was most touched by the story of the third Earl of Bute, John Stuart (1713-1792):
When he was a young man he was a close friend of Frederick, Prince of Wales and following the Princes' death he was appointed tutor to Prince George, the new Prince of Wales for whom he arranged lessons in natural history (he had his priorities right). John Stuart was a also a close friend of Frederick's widow, Augusta of Saxe-Gotha, the Dowager Princess of Wales and a rumour was started that the couple were having an affair. This was upsetting for James Stuart who was happily married and held sincere religious beliefs against adultery. He was made Prime Minister but was very unpopular as he was Scottish! and he held the post for less than a year. When he was offered the possibility of becoming the first Marquess of Bute he turned it down, preferring to live out of the public eye and devote himself to his house and botany. Sensible man.
After over two hours at Mount Stuart we whizzed around Bute and then headed for the ferry at Rhubodach which took us over to Colintrave on the mainland. As we waited for the ferry we saw there were fires up on the hills of Bute, quite common apparently.
We had a lovely drrive around to Otter Ferry, where there is no ferry but a pub and a bothy which we had reserved for our last night. We met quite a few cyclists on the first part of the drive around the coastal road, I was not sure if I envied them or not, perhaps yes on the way down the hills and no on the way up! Our bothy was new and smelt of wood, and we had it to ourselves. We walked in the sun along the shores of Loch Fyne that we know so well from the other side of the loch where our usual road to Islay arrives at Tarbert via Lochgilphead.
Ordering a pint of local beer from the Oystercatcher Pub right by our bothy, and sitting with it in the sun at the tables outside everything was perfect. This was not to last however as when we asked for a meal at the pub, they told us they were fully booked! Well it was a Saturday and it was the Easter holidays and it was a lovely day, but could they not please just make us a a sandwich? No they couldn't! We were hungry and so straight away felt cross and crabby. We had to get back into Lady P and drive again to find somewhere to eat.
We were extremely lucky and grateful to find a pub at Kilfinan where we were made more than welcome. We were soon sitting with a glass of wine in our hands chatting to the owner about the dangers of the internet (the connection is very bad in Kilfinan so it is in their interests not to use it!). Then his wife made us a very nice meal, we were alone in the restaurant, although assured others would arrive soon. However we finished our lemon meringue pie alone and after visiting the bones and stones in Kilfinan churchyard, we headed back to the bothy for our last night on the mainland.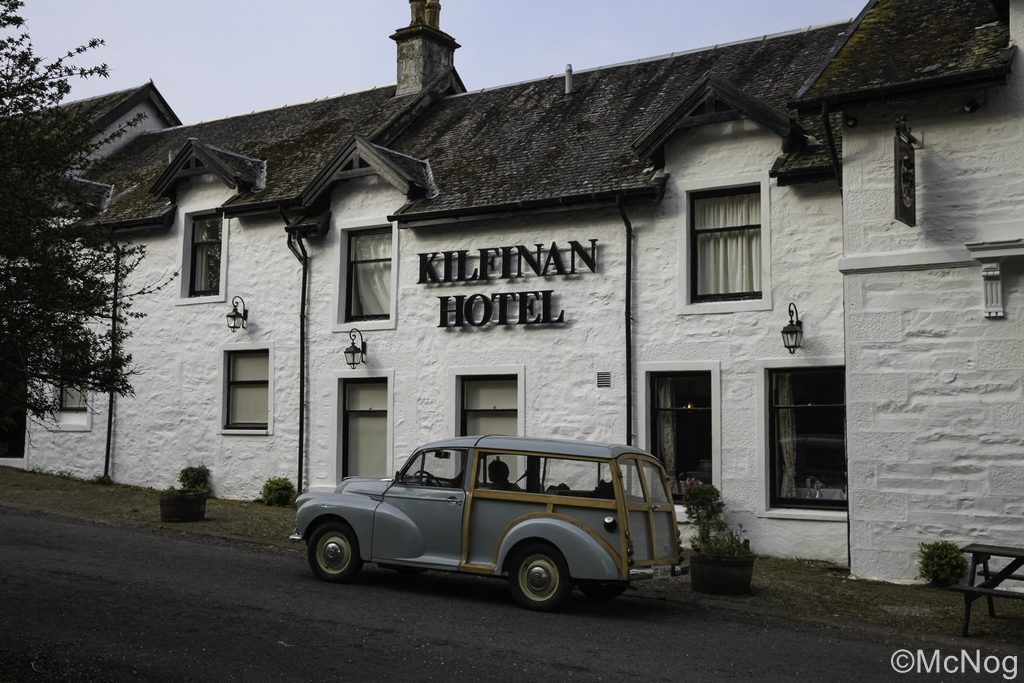 21st April, 2019 Otter Ferry – Braeside, Islay


After breakfasting on a cup of tea and a ginger biscuit we headed for the ferry at Portavadie. There was a short line of cars that grew longer as we waited, but we all fitted in and we paid during the short crossing.
The tide was in at Tarbert and the harbour was looking its best as we walked around with time on our hands before the boat to Islay. We concentrated on food, eating a lot of it at a little cafe and then stocking up with even more at the local Coop. We set off for Kennacraig where the wait for our last ferry was enlivened by a young man waiting for the bus to Campbelltown who poured out his troubles of a broken bike and no money, 'but who wants fucking money anyway' he commented unhappily.
The ferry to Islay was almost empty so we had a quiet and comfy crossing, reading our books until the moment came when Lady Pamela touched Islay soil for the first time. We felt full of emotion as we took the familiar road from Port Askaig. The final corner and Braeside came into sight. We drove into our drive, Marc turned off the engine and we had a drink of whisky to celebrate Lady Pamela coming home.